Welcome to Steve & Janet Tolopka's Home Page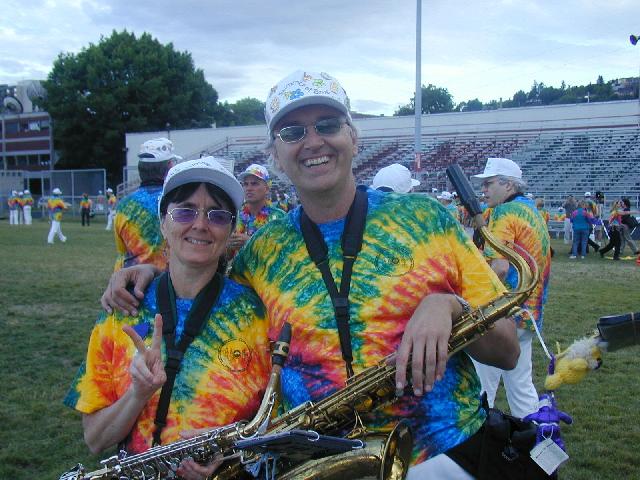 ---
Driving Directions
Click here for directions from Portland International Airport to our house. Click here for the "condensed" version of the map and directions.

Christmas Newsletters:

Dying to know more about us? Find our more than you wanted in our Christmas Newsletters.
Need a Swingin' Band?
| | |
| --- | --- |
| | Second Wind Jazz plays Glenn Miller to Big Bad Voodoo Daddy and everything in between, and we'd love to play for you. Click here for more info, sample tracks from our CDs, photos, etc. |
Need a Rockin' Band?
| | |
| --- | --- |
| | Oh, we got treble ... right here in River City! If you've got a hankering for "a little funk, a little soul, and a whole lot of rock 'n' roll", then you need Treble in River City. James Brown, Stevie Wonder, Aretha Franklin, the Blues Brothers, Blood Sweat & Tears -- we play 'em all! Visit the site for upcoming show dates and sample sounds. That's with a capital T that rhymes with B and that stands for 'Bones! |
Need a Marchin' Band?
Sometimes you need music on the hoof. We can help you with a couple of other bands we play with:
The Beat Goes On is an all-adult marching band dedicated to delighting Northwest and National audiences while reliving the best parts of the marching band experience. The band is known for its feel-good attitude, emphasis on audience interaction, and spontaneity on the street and on stage. Though our musical tastes are eclectic, TBGO features a high-energy, brassy, rock and roll style - we may be a marching band, but we're more likely to play Lady Gaga than John Phillip Sousa!

Need a little excitement at your parade, corporate event, barbeque, or festival?. Click here to drop us a note and chat about your gig!

Do you like marching bands? Big marching bands? I mean really really big marching bands? Then this is the one to try. The One More Time Around Again Marching Band boasts over 500 members and the biggest sound you'll hear this side of an airport runway. And remember: #2 is always "Louie Louie".
Need a Concert Band?
| | |
| --- | --- |
| | The Portland Community Wind Band was formed in 2005 to provide Portland-area adults an opportunity to recapture the enjoyment of playing concert band literature. Click here for music from some of our performances. |
Need a Plethora of Saxophones?
| | |
| --- | --- |
| | Sax in the City made its debut in 2009, smack in the middle of Portland in Pioneer Courthouse Square. Nine saxophones, one drummer, and the sweetest sounds this side of heaven! Check the Sax in the City website for video from the performance or to sign up for updates about next year's performance. Better still, contact us to bring us out to your event - because we can all use a little more group sax! |
Tech Tips
| | |
| --- | --- |
| | You know how you spend an afternoon (or a day or ...) trying to figure out why some fershlugginer piece of technology ought to work but won't? The web has been a godsend for those days since you can often find your problem or something much like it, along with a solution (or at least an approach). But every now and then can't find what you're looking for, so if you DO figure it out posting it is A Nice Idea. This page is my repository for such problems/solutions in the hopes of saving some other poor soul a frustrating afternoon. |
Crochet Wars
| | |
| --- | --- |
| Some projects take on a life of their own. Even something as simple as a crochet project. You finish the work and it still calls to you, and ... oh well -- see what happens when you mix crochet figures with an overactive imagination and too much free time. | |
Softball Information
The Tolopka's Meet the Olympics
Click here to follow our Saga through Sydney. (Yes, I know it's incomplete and someday I'll catch up!)
Music Rehearsal Files
And if you just happen to be a member of one of those bands: Here's an assortment of "practice" files and rehearsal recordings that you can use to hone your chops.
---
Last updated: 12 June 2017
Steve & Janet Tolopka